Air Quality and Climate Change Policies - Seperate or Joint Challenges?
Science-Policy Workshop in Brussels, 21 May 2013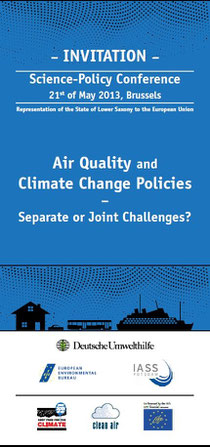 This event picks up on the main discussion point of the "Clean Air Everywhere" conference, held in January 2013 with participation of Commissioner Hedegaard and Potocnik - opportunities and challenges of integrated actions against climate change and air pollution.
Within this context, efforts to combat climate change and to improve air quality pursue the same objectives. The identification of potentials for streamlining action can help to make an important step forward. This event aims at elaborating more thoroughly on the potentials, co-benefits, challenges and trade-offs of concerted action in these two sectors jointly with representatives from policy, civil society, research organizations and practitioners.
For more information please find our invitation flyer and background paper below:
More Information:
Presentations:
Lothar Nolte
Svante Bodin
Opening Speech (Svante Bodin, ICCI)
AP CP integration Brussels 130521.pdf
Adobe Acrobat Dokument
233.1 KB
Mark Lawrence
How air polution and climate change are interconnected - a scientific introduction (Mark Lawrence, IASS)
Lawrence_20130521_APCC_Conference_Brusse
Adobe Acrobat Dokument
1.7 MB
Markus Amann
Current and future EU emissions of air pollutants and climate forcers (Markus Amann, IIASSA)
amann-brussels-IASS-may2013.pdf
Adobe Acrobat Dokument
585.6 KB
John van Aardenne
Potentials for integrated evaluation of air quality and climate change related emissions (John van Aardenne, EEA)
air-climate_aardenne_may 21.pdf
Adobe Acrobat Dokument
1.3 MB
Ken Colburn
Linking air pollution mitigation and energy strategies (Ken Colburn, RAP)
RAP_Colburn_LinkingAirPollutionMitigatio
Adobe Acrobat Dokument
2.2 MB
Pieter de Pous
Potentials for streamlining Air Quality and Climate Change Policies from an NGO perspective (Pieter de Pous, EEB
DePous_air_climate_May2013.pdf
Adobe Acrobat Dokument
943.8 KB
Paneldiscussion
Jürgen Resch - Closing remarks