MEPs and NGOs call on European Commission to release air proposal before end of the 2013 European Year of Air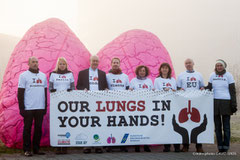 Strasbourg, 10 December 2013
Early this morning, fifteen members of the European Parliament gathered in front of the European Parliament building in Strasbourg, holding a giant inflatable pair of lungs above their heads to symbolise the importance of protecting people's health. The MEPs also carried a banner saying 'Our lungs are in your hands' addressed to all twenty-eight EU Commissioners. This action calls upon the European Commission to propose its air package before the end of the European Year of Air.
MEPs were joined by representatives of a large coalition of environment and health NGOs including groups from France, Germany, Spain and the UK, amongst them the European Environmental Bureau and the Sootfree for the climate campaign.
During the 2013 European "Year of Air", the European Commission committed to launch a package of new measures aimed at improving air quality. Until now, the adoption of the new package was delayed week after week nad has not been accomplished yet. Still, the European "Year of Air" was officially closed yesterday at a conference hosted by the Commissioner for the Environment in Strasbourg.
In Europe, approximately 420,000 Europeans die prematurely every year because of poor air quality. In 2013, the WHO classified air pollution as cancerogenic as tobacco and asbestos. And just yesterday, a study once more confirmed that current EU air quality legislation is far from sufficient to protect Europeans' health.
Please find more pictures of the event here.
The EEB press release can be found here.