Happy Year of Air 2013!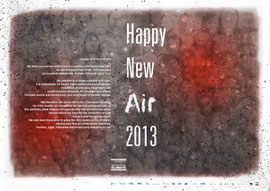 An Alliance of 18 European environmental organizations in 13 EU member states urges for tighter limit values and closing of loopholes
Europe, 07. January 2013: Today, at the beginning of the "Year of Air", leading environmental organizations handed over common New Year`s resolutions to their national authorities that are in charge of cleaning up the air. The NGOs criticized the persistent high level of air pollution in al over Europe and asked for resolute engagement of their respective ministers both at national and at EU level.
By declaring 2013 the "Year of Air", EU commissioner Janez Potočnik has raised the bar for European air quality policy in this year – that is the right signal. However, only the concrete results at the end of the year will proof if this credible and reliable. In particular the national environment ministers have a special responsibility for clean air in their countries and at the next Environment Council as their voice is important to foster a qualified majority for better air quality in the upcoming legislative processes.
In 2013 the EU must finally set ambitious limit values for all kinds of air pollutants, such as soot and nitrogen oxide, as to make up leeway. Some limit values in the EU are even weaker than those required by the UN`s World Health Organization (WHO). Not only need the emission caps to be stricter, a consequent measurement and enforcement is urgently needed.
Effective and low cost measures for a better air quality already exist and their positive impact is well documented by scientific research. Therefore it is not understandable why measures for better air are not yet fully implemented. The current air pollution causes asthma, cardiovascular and lung diseases and is responsible for nearly half a million premature deaths in Europe every year. Air pollution harms biodiversity seriously and contributes to global climate change. All health and environmental damages cause very high economic costs for society.
The demands of the NGO alliance have been supported from people all over Europe, who provided a photo of themselves. All photos created a New Year`s card with the "resolutions" that politicians in charge of air quality on national and European level are urged to take. Air and by that air pollution does not stop at borders. That is why ambitious air quality standards are ultimately an expression of the European idea of transboundary responsibility for humans and nature.
There will be some central amendments of EU laws in 2013 regarding air pollution control. The campaign "Sootfree for the Climate" will critically accompany the national and European legislation processes in the Year of Air.
The following demands are especially crucial:
Strengthen European-wide ambient air quality standards, some of which are currently weaker than the levels recommended by the World Health Organisation (WHO).
Number of particles must be included.
Push for ambitious new National Emission Ceilings (NEC) and their supervision which will reduce harmful emissions of pollutants such as black carbon, nitrogen oxide and ammonia.
Cut emissions from agriculture, in particular ammonia and methane emissions, which contribute to global warming and bad air quality.
Cut emissions from smaller industrial combustion installations (1 - 50 megawatts) which are the biggest emitters of PM, a pollutant with the highest estimated impact on human health.
Reducing PM and by that black carbon (BC) emissions from non-road mobile machinery (NRMM).
Cut emissions for PM, BC and nitrogen oxides from the shipping sector.
Future emission regulation must concentrate on the emissions under real conditions and has to cover the most relevant driving conditions, including low ambient temperatures.