What is the campaign about?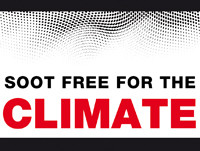 The German environmental and consumer associations NABU, BUND, VCD and Deutsche Umwelthilfe started the "soot free for the climate – no diesel without filters!" campaign in March 2009 to address the climatic effect of black carbon. Meanwhile the campaign grew European wide. Partner organizations in 11 European member states are working on the subject of the climatic effect of black carbon.
Black carbon (soot) particles, which result from fossil fuels and biomass, have a twofold damaging effect which causes dramatic melting of the arctic ice:
Black Carbon absorbs radiating heat from the sun and warms its direct environment (direct effect),
Black Carbon falls onto snow and ice and changes the overall reflectivity of those surfaces (albedo effect) and accelerates the onset of spring melt.
In Central Europe traffic is the major source of black carbon emissions. Therefore the aim of this campaign is the reduction of diesel emissions of vehicles (cars, lorries, busses) and "offroad"-engines of diesel powered rail vehicles, ships and construction machines.
The associations call for
Reducing black carbon in the European Union by 100 percent by 2020. This is technically feasible, as there are already numerous providers for filter systems and low-emission vehicles in Europe. So a requirement for exhaust gas treatments would benefit the European market.
Passage of a federal reduction aim for diesel emissions, based on its climate protection targets.
Setting ambitious environmental standards aiming to clean up the public transport fleet, designating local environmental zones or advancing existing environmental zones that restrict all unfiltered engines.
Expansion of the cycle traffic.
If the aim will be fulfilled there is a realistic possibility to slow down further melting of the arctic ice and climate change.